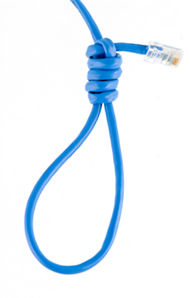 Network problems hanging
over your head?
Network Assessment Services
In today's world, your business relies on your data network. If your network is unreliable, or is performing poorly, your business may be severely impacted. If you believe you have network issues impeding your business productivity, FLG Networking Services can help.
FLG Networking Services provides network assessment services to help you identify the root causes for the network issues you are experiencing. Our network assessment offering draws upon the technical skills and experience of FLG Networking Services to provide you with a clear picture of your current network, along with a comprehensive set of tactical and strategic steps to improve the operation of your network.
Network Assessment Scope
FLG Networking Services' network assessment offering is designed to take a comprehensive look at your network. A network assessment will typically cover the following areas:
Physical connectivity (fiber and copper)
Overall logical network design, VLAN design and IP addressing
Router and switch configurations
Design for redundancy
Internet connectivity and firewall configuration
Microsoft server network settings, including DHCP, DNS, WINS
Wide-area network design
A network assessment can be expanded to include a study of other elements of your network, such as your wireless network or your VPN remote access capabilities. It can also be extended to delve deeper into issues relating to the Microsoft elements of your network, such as Active Directory design and Exchange Server configuration. Or, you can have us focus on a specific aspect of your network. In short, a network assessment can be tailored to meet your specific requirements.
Network Assessment Methodology
FLG Networking Services uses a proven methodology for network assessments. The steps for a typical network assessment include:
Kickoff meeting to review client objectives
Gather background information, such as remote site locations, existing network documentation, etc.
Review overall network switching design, including VLAN design, IP addressing, spanning-tree configuration, and overall network topology
Review wide-area network design, including router configurations, link bandwidth, and network monitoring
Review condition of wiring closets at the headquarters location and selected remote sites, noting condition of network wiring and racks, and type of network equipment installed
Review network settings for key servers, including IP settings, DHCP settings, route statements and DNS
Network sniffer monitoring for excessive broadcasts and other issues
Assess the current connection to the public Internet, including firewall configuration, network access policies, DMZ design, and approach to email and web content filtering
Prepare a final report
Detailed Reporting and Recommendations
You will be provided with a final report that includes an executive summary, a list of all data-gathering activities, a discussion of network issues found during the study, tactical network recommendations, and strategic network recommendations. The network recommendations will be clear, targeted to address your specific network issues, and actionable. Your final report will provide you with a straight-forward roadmap for improving network performance and reliability.
For more information about our network assessments or other FLG Networking Services offerings please email us at flg@flgnetworking.com.