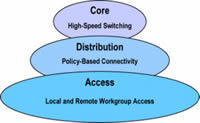 Network Design Services
At FLG Networking Services, we believe network reliability and network performance should be designed into your network. The process begins with the design of your network core. A high-speed redundant network core can be designed for almost any network.
Other network design elements include:
Physical connectivity (fiber and copper)
Overall logical network design, VLAN design, and IP addressing
Equipment selection
Network Quality of Service (QoS) and support for voice-over-IP (VOIP)
Network monitoring with SNMP management
Interfacing with VMware hosts and virtual machines
Network Security Perimeter Design
We can also help you select the right wide-area network design to connect to your remote sites. You may have several alternatives, including VPN, MPLS, and metro ethernet to consider. Each alternative has its own characteristics, including cost, bandwidth, latency, and complexity.
One of the best opportunities to do a network redesign occurs when you remodel an existing facility, or move to a new one. If you are moving to new office space, or looking to update your existing network infrastructure, let us work with you to design the right network for you.
Tech Notes
Multiple Gateway Problem
Think back to the last time you configured a Windows workstation network card for TCP/IP. You went to the Control Panel, clicked on the Network icon, added TCP/IP to your NIC, selected TCP/IP --> Name of your NIC, and clicked on Properties.
Read more…
IP Addresses for Internal Networks
If you are designing an IP (IPv4) addressing scheme for your organization's internal network, you have some addressing flexibility that you would not have if you were designing a network that touches the public Internet. Some special addresses have been made available for use in private networks.
Read more…