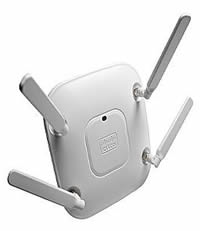 Wireless Networking
Does your wireless network suffer from poor performance? Are cheap consumer-grade wireless access points causing you grief? Is your organization becoming more dependent on your wireless network?
Cisco Wirless Controller
You can regain control of your wireless network and improve performance with a wireless solution based on the Cisco Wireless Controller and Cisco Light-Weight Access Points. The advantages include:
Manage all of your access points in one place
Access point software upgrades managed centrally
Enterprise-class security that can integrate with Active Directory
SSIDs and wireless security policies are configured in one place
Access points support multiple SSIDs and dual radios
The system can detect rogue access points and even radio frequency interference
Automated power and RF channel management
The Wireless Controller solution is ideal for wireless in larger buildings, campus networks, or multiple sites connected by high-speed fiber links. We have successfully installed Cisco Wireless Controller systems at corporate headquarters sites, corporate campuses, and a K-12 school district.
Cisco Meraki Cloud-Managed Wireless
Not everyone has the luxury of a high-bandwidth link to each of their remote sites. Suppose you have multiple branch locations that have slow links (or no links) back to headquarters. The branches all need wireless, and you would like enterprise-class performance, security, and reliability. If your branches have Internet connectivity, a better solution might be the Cisco Meraki wireless system with cloud-based management.
Cisco Meraki access points are managed using the Meraki cloud management system, which provides many of the same functions as the Cisco wireless controller. In addition, there is a great deal of reporting capability, which is helpful for managing BYOD devices on your network.
How We Can Help
When you are ready to upgrade your wireless network, you have many choices. We believe in the two Cisco solutions outlined above, and feel they are best of breed. We can work with you to select the best option, and tailor it for your particular situation. We can then help you through the design and installation steps.
Tech Notes